Dhidalah en concert au Supersonic (Free entry)
Posté par

20 mai 2022

dans Non classé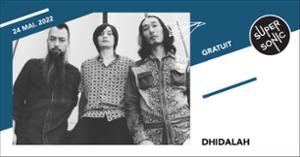 $description
WELCOME TO SUPERSONIC
Concerts gratuits, Nuits rock et Disquaire à Paris !
DHIDALAH
(Space rock - Tokyo, JAP)
"Since 2013, Dhidalah has hailed from the Tokyo underground as a space rock power trio. The band name derives from the Japanese legend of the Giant Gods — known as the creaters of mountains, lakes and islands.
Dhidalah plays improvisational music performances inspired by various genres from stoner/doom to kraut rock."
- https://youtu.be/KYlXXpFf0D0g

On vous annonce le reste de la prog très vite !
---
24-05-2022 de 19:00 à 23:00
---