Zoe's Shanghai
Posté par

3 juillet 2022

dans Non classé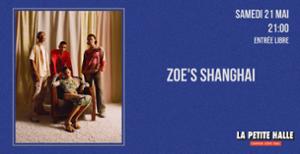 Zoe's Shanghai :
Fr :
Le quatuor français avait déjà reçu la bénédiction du grand prêtre Gilles Peterson pour son premier EP A Mirage. Désormais parrainé par le producteur Oli Barton-Wood (Nubiyan Twist, Joe Armon-Jones) pour son dernier album Lava Love, Zoe's Shanghai s'impose doucement comme chef de file de la neo-soul made in France. Le jeune groupe nous entraîne dans un voyage volcanique, où la chaleur et la puissance de la voix de Zoé Renié Harris rentrent en fusion avec les rythmiques groovy d'inspiration jazz-progressif de Mehdi (basse), Emerik (claviers) et Landy (batterie).


En :
Excitement, wonder and trust, form the seed of the group's foundation to music. Whether jamming, rehearsing or performing, Emerik (Keys), Landy (Drums) and Mehdi (bass) spark with Zoé's vision, connecting a kaleidoscope of musical colors, feelings and reflections in often thrilling and original ways.
The music making process for Zoe's Shanghai is a series of mysterious intuitive steps from one thrilling discovery to the next. Sounds and ideas flow between the members of the group, iterating into a tightly formed composition that rolls off the edge into unchartered territory while Zoé's warm agile voice reflects on themes like the subjectivity of reality, or the creation of memories.
The Paris-based four-piece band released their first full-length album Lava Love in 2021. In the French region of Auvergne, with its mountain ranges & dormant volcanoes, Lava Love is a record of the dynamic flow of memory and meaning that poured out of the band and into an old stable adapted into a live ephemeral studio space.
Produced with Oli Barton-Wood, the sound of Lava Love brings together hypnotic melodies, groovy rhythms and thoughtful lyrics - fusing the essence of multiple music styles, forging Zoe's Shanghai unique contemporary soul.


__________________________________
Facebook : https://www.facebook.com/zoesshanghai
Instagram : https://www.instagram.com/zoesshanghai
Bandcamp : https://zoesshanghai.bandcamp.com/


__________________________________
La Petite Halle :
211 Avenue Jean-Jaurès, 75019, Paris
Métro : Porte de Pantin (ligne 5)
Tramway : Porte de Pantin – Parc de la Villette (ligne 3B)
Possibilité de se restaurer sur place !
---
21-05-2022 de 21:00 à 00:00 le 22-05-2022
---