The Death Set • Louis Lingg & The Bombs / Supersonic (Free entry)
Posté par

20 mai 2022

dans Non classé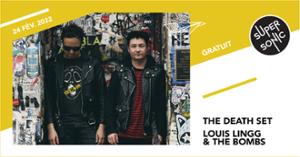 $description
WELCOME TO SUPERSONIC
Concerts gratuits, Nuits rock et Disquaire à Paris !
THE DEATH SET
(Art punk - Sydney, Australie)
The Death Set est un groupe de musique expérimentale ayant des racines dans le punk rock, parfois appelé art punk. Le groupe s'est formé en 2005 à Sydney, en Australie.
- https://youtu.be/HJ63HQLeQsA

LOUIS LINGG & THE BOMBS
(Pop punk - Paris, FR)
Le groupe rend hommage à Louis Lingg, le fameux anarchiste de Chicago qui met fin à ses jours dans le couloir de la mort en 1886. Il inspire au groupes ses chansons les plus politiques, qui côtoient des morceaux plus ludiques et enfantins; mais le dénominateur commun a tous les morceaux de ce groupe reste l'énergie pop et l'enthousiasme militant.
- https://www.youtube.com/watch?v=DrX1Ryf0xrE
Les 3 influences : The Prodigy, Beastie Boys, Green Day

On vous annonce très vite le 3ème groupe à rejoindre la prog !
---
24-02-2022 de 19:00 à 23:00
---